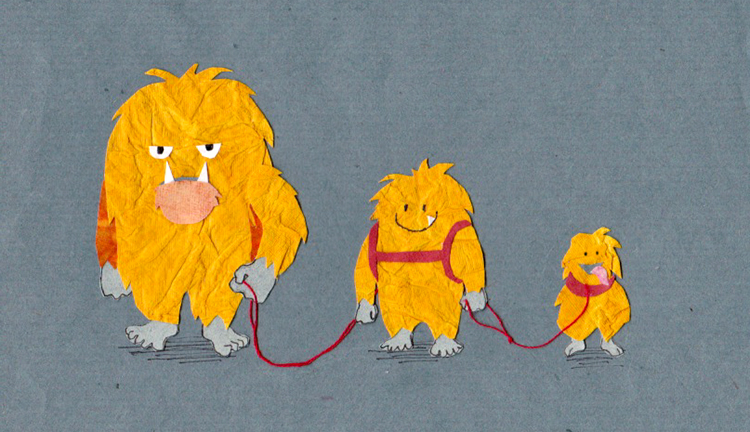 Ten-year-old Max has been hankering for a kitten. He says my place is lonely with just the two of us. I keep considering it. I do like cats. Max has a cat already at his other apartment with his dad. Her name is Scarlet (Inevitably you will ask Max, Why did you name her Scarlet? To which he will answer, Because I felt like it.). Lookit that pic below. Look how cute she is. I borrowed her over the holidays. She was giving me furry foot rubs within a few hours of arriving. Still, having her around also reminded me of what I do not like about having a pet. So I've made a list of pros and cons to help me decide…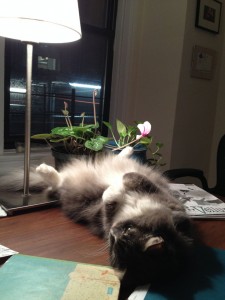 Reasons NOT to get a cat:
Cleaning the litter box. Peeeewww. I spent 6 years cleaning up Max's poo and pee. I don't want to mess with another being's urine and feces again for a whole decade or two more.
Shedding. I'm not into wearing fur coats, fur slacks, fur shirts.
Allergies. I'm mildly allergic. Some folks we love are allergic, so they would be unable to visit our home.
If we travel, we'd have to make arrangements for her care.
I like my furniture. Unscratched.
Feeding and watering. Yet another task to remember.
Midnight runs. Slumber interrupted by nocturnal galloping and caterwauling.
Need to guard the food on the table.
Reasons to get a cat:
They're cute, furry, and warm.
Depending on the cat, they're a nice presence. And talking to a feline is a little less crazy than talking to yourself when you work alone.
Allergies. Some folks, who we wish would not come around, are allergic.
Entertainment purposes (this should count as 3 reasons). Kids love to hunt them down, cuddle them, make beds for them, hunt them down again. You can wriggle your toes under your blanket and watch your cat wrestle with your appendages. You can put tape on their feet and have a laugh at their expense. Combine them with an assortment of boxes and bags and make a viral video. If you're lucky, you can even play fetch with your cat (Scarlet does anyway. "I think she's secretly a dog," said Max).
My son has been begging me to get a cat for the past two years. This reason will be the tipping point.
In her five day visit, Scarlet's presence filled that void that Max feels in my apartment at the end of the day, when it's just him and I sitting at the dinner table. I feel very close to my son, but before my divorce we were a threesome. Now a twosome feels lonely to him. Scarlet was sweet and amicable. She only scratched the coach once—that I saw anyway. I'd like to have a cat. I just don't want another set of chores eating away at my work time, and I don't know if Max has it in him to do half the pet care. Maybe we'll foster cats while they wait to be put up for adoption. It'll be like a library, where I can check out a feline for a few weeks at a time.
And if we fall in love, we'll adopt.

WW: Beastie for Beastie? Should We Get a Cat?