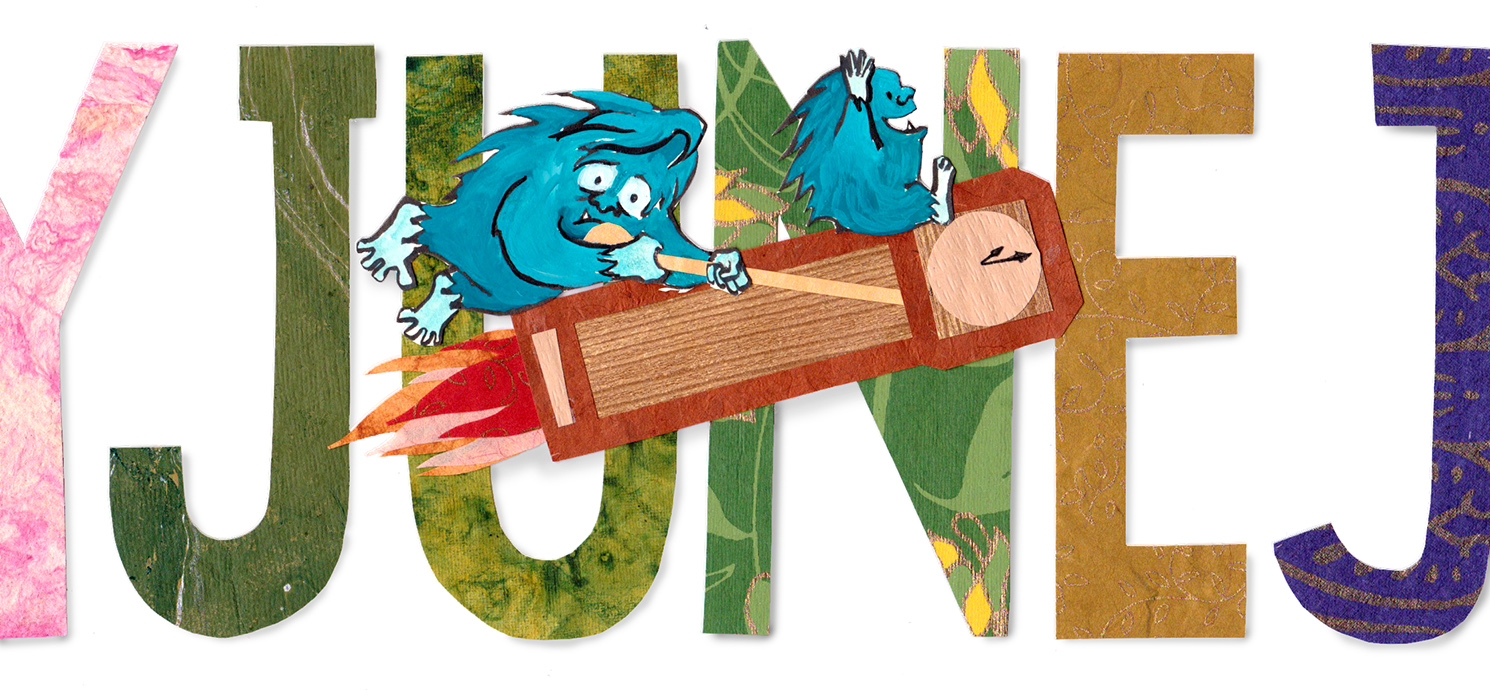 Uncle! I give in! I've been at this blog for a whole year. It's been fun, it's been work, and it's time to take a break.
What happened to June?? My Great Aunty Elsie was fond of pointing out that "Time is our most valuable asset. Not everyone has money, but everyone has time." So I try to spend it wisely. This Konga Line blog has been a great way to exercise my chops in illustration and in writing. Nonetheless it takes me hours every week to a create an image or an essay, and now I want to allot those hours to other endeavors. Children's books, art licensing, greeting cards, in case you were curious.
Time races by at breakneck speed. Max is on the brink of middle school. The other day I helped conduct an off-the-cuff graduation ceremony in Central Park, involving 63 screaming fifth graders whose elementary years are coming to a close on Friday. My job of herding the kids into the shape of a giant loop would've been easier with a bull horn. I hollered so intently I was shorting out on oxygen and nearly passed out. The kids high fived each other and then paraded through a tunnel of cheering parents. At the end of tunnel one of their beloved kindergarten teachers handed out t-shirts tied up like diplomas. Or she tried to, the horde of 10/11 year-olds turned into a mob that dove into the boxes and helped themselves. Animals. They were so pleased with their tees and spent the next hour signing each other's shirts with sharpies. It was chaos and mayhem. People were happy. The celebration was a hit. Elementary years done. Now onward and upward.
And so it is with this blog. For the past two years, I have been shaping a career in illustration. I don't quite know what I am doing in this field, which is so competitive that I must yodel quite loudly to be heard by the people who can help me succeed. This blog, of which I am quite proud, has been part of the process. Through Konga Line I have learned about WordPress, about social media, about how to create evermore content under the pressure of that weekly deadline. For now I'm pressing the pause button because I want to pursue new projects. But I do hope to return after a summer break with more tales of beastliness to tell. Until then, I thank you readers for letting me share my thoughts and work with you.Be well. May you find the humor in every beastly mess that is thrown your way.
Time Flies, Time to Go Fishin'