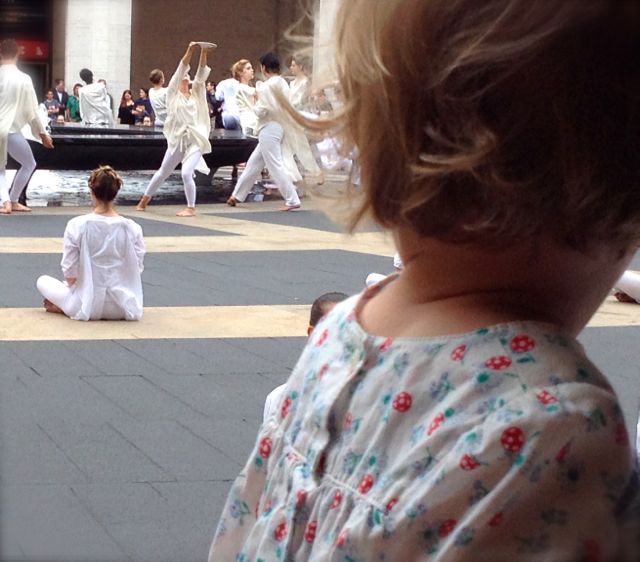 This morning, September 11, I caught the dance and music performance of Table of Silence by the Buglisi Dance Theater on Lincoln Center Plaza. It is a 9/11 tribute that premiered on the tenth anniversary of the attacks and has been performed every September 11 since then The performers cradle empty plates in their hands. Are they offering? Or are they asking? And at 8:46—the time when the first airplane plowed into the World Trade Center 13 years ago—100 dancers look up and open their arms to the sky as a bell tolls in the distance. This prayer for peace through sound and motion is how choreographer Jacqulyn Buglisi tells the world her experience of 9/11.
Watching the performance over the shoulder of a little girl reminds me of the care we use when we tell children stories of tragedy and disaster. I remember explaining the events of that day to Max when he was 5. We are putting together an old puzzle of NYC which included a drawing of the twin towers. Maybe he asked about them. Maybe I simply wanted to share the story because it is part of history. I don't mention the people jumping out of windows, nor the smell that lingered over the city for days, nor how frightened we all were because we did not know if there would be more terror to come. I only say that there were once two very tall towers in NYC. Some very angry people crashed two airplanes into them and brought the buildings tumbling down. A lot of people died.
A simple story. And still he asked the same question as the rest of us. "Why?"
How Do You Tell the Story of 9/11 to a Child?