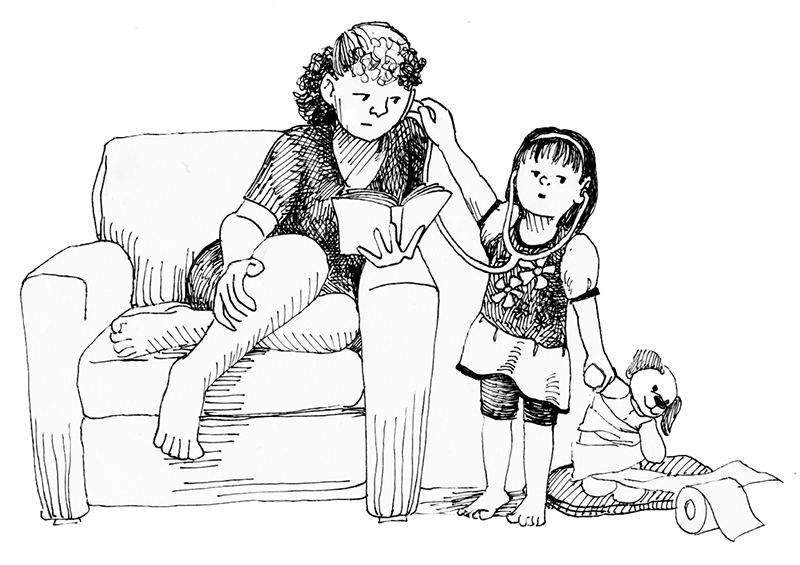 What's the difference between lying and pretending, and how many shades exist in between the two? NYC-based filmmaker Secil gives us July's Rumpus Queen as she tells Melody's tale. Thanks for sharing, Secil!
Miss M was in pre-K at a Montesorri school when she told all her teachers I was pregnant. "They did the ultrasound, but Mommy said she wants it to be a surprise so they didn't tell us if it's a boy or a girl." She was very convincing… I wasn't pregnant. I wasn't even thinking pregnant thoughts. My husband and I told our daughter we don't tell people that Mommy's going to have a baby when Mommy's not going to have a baby, but my daughter has always had an interest in medicine and the human body.
A few months later the school began politely nagging parents to send in their deposits to hold their children's spots for the next year. Our family was stalling because we were waiting for the Gifted & Talented test results to see if Melody might enroll in a good public school instead. The non-refundable deposit to hold a spot in the Montesorri was quite a big sum.
Around that time, her Montessori school also held a potluck. We went somewhat reluctantly, dreading the school administration inevitably asking after our check. How surprised we were that, instead, the teachers all said they were super glad I was able to make it and that I looked great!!! I wondered, "Why all this fuss about me coming to the potluck?" Then the principal clarified things. She said, "I was going to call you but thought, 'Poor woman, I should leave her to rest.' It must be so hard to go through chicken pox as an adult!"
Apparently, my 4.5 year old had told them, again very convincingly, that Mommy caught the chicken pox and was gravely ill. She gave them all kinds of details about my symptoms and phases – the spots, the aches, the sore throat, and they all believed her. They left us alone. We got her G&T test results the following week and avoided throwing away the deposit for next year.
Got a beastly tale to tell? Once a month Konga Line shall crown a wonderfully beastly boy Rumpus King and a gloriously beastly girl, Rumpus Queen. Send in stories of your little goblins for a chance at the crown. If your mini-monster is named Rumpus Royalty, I'll post your terrible tale and send you a fabulous FREE KONGA TEE of your choice.
Rumpus Queen Melody of Medicine