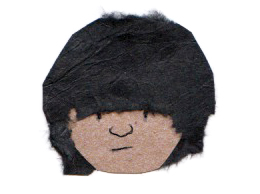 1) Max's hair is bugging the CRAP out of me. He likes it long. We got the bangs (can you say bangs in relation to a guy) cut recently, but it has a helmet quality to it, and because it was cut right above his eyelids, the black curtain has fallen into his eyes again. And as much as I hate his bad mop, he hates me constantly sweeping it out of his eyes and trying to put gel in it.

2) A best friend's brother passed away recently. Max and I were sad for her. We made a card together. He  wrote "LOVE" in bubble letters and I cut them out in different papers and collaged them. Writing a note in the card was more difficult. Our hearts ache for her and we wanted to say something just right. I told him to write, "We love you, Aunty." He argues that now that I've told him to say that, he can't say it because they're MY words, not his. So I say, "Let her know we feel sad for her, tell her in your own way." After a minute of thought, he finally writes, Have a great day.
Um, not quite the right tone. But he explains that because she is so sad, he wants to send her a message that is happy to cheer her up. In the end, we decide he doesn't have to. Aunty knows we made the card together and we sent "LOVE."

3) It occurs to me that you can actually hear a kid's confidence level—actually anyone's confidence level—in the sound of their instrument. My ex and I have to pester Max to practice his flute ten minutes a day. In Max's school, fifth graders are required to learn an instrument. Those who really get into it join the Notables and meet once a week to rehearse during recess. I saw my son's Notables concert the other day. He was in a quartet of flutes playing Dona Nobis Pacem. Made my eyes misty. I'm putting a link to a horribly shot video of this beautiful piece in here since I have Mama Bragging rights (Max is the second overexposed blob in from the left). The funny thing is that I've never heard him practice this number at home.
4) And for this last fragment here, I really have nothing to say other than I found this collection of kids' test papers hilarious. http://news.distractify.com/jake-heppner/test-answers-that-are-totally-wrong-but-still-genius/
Friday Fragments: Hair, Love, Music, Answers